easy2Propagate Basic Kit
Please Request a Quote
easy2Propagate Basic Kit includes: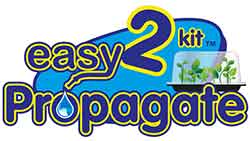 1x Clear easy2Propagate Lid with 4 Fitted Vents
1x Garland Giant Plus Tray
2x CocoMat 58 x 51 x 3cm
1x 116cm x 51cm Root Control Sheet
Description
Description
The easy2Propagate Basic Kit gives you all the options. Either connect to your AutoPot Watering System with your own existing equipment or use as a standalone propagator and irrigate manually. The kit offers the same level of potential for those who prefer to grow it alone or who simply have all the other kit already.
easy2Propagate Basic Kit includes:
1x Clear easy2Propagate Lid with 4 Fitted Vents gives you the size and adjustability to grow responsively. You can transplant sooner or later according to your climate, your chosen variety and your plant's needs.
1x Garland Giant Plus Tray provides a large, stable base for the easy2Propagate with an ideal depth for cultivating young plants.
2x CocoMat 58 x 51 x 3cm sit in the tray and holds all the moisture your plants require. The CocoMat controls watering by holding and gradually wicking the water to the plants via capillary action.
1x 116cm x 51cm Root Control Sheet ensures that your easy2Propagate has optimum functionality and that the tray and matting remain clean and free from root invasion.'
Dimensions